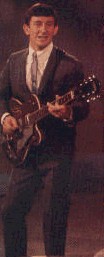 Meet Declan Mulligan!
Declan was born in County Tipperary, Ireland. April the 4th, 1938
His Uncle moved to California to work for Walt Disney, productions. His grandmother wrote some of the song's for Disney's "Darby O' Gill and the Little People.
His first guitar was a present from his Uncle a Harmony Hollywood guitar from the states.
He was a fan of Elvis.
He lived for a while in Toronto. Then moved to the states in 1962, he moved to San Francisco.
He met the Brummels in "63".
A friend wrote to him about the Beatles and that they had a hit song in the UK.
He quit the band in July of "65".
Read the Interview with Declan at The "Sundazed" website.
©1999-2005 Cass- The Fabulous Beau Brummels Site.