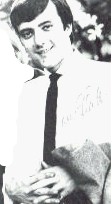 Meet Ron Elliott!
Ron was born October 21st, 1943.
He was one of the first Brummels, he was 19 when the band begun.
However because of health problems, was unable to tour with the band at times and make appearances.
Ron created a wonderful poster for the Bay pop show. And, happens to be a very good artist.
Check out some of Ron's amazing art work at: http://www.bsfweb.com/relliott.htm
©1999-2005 Cass- The Fabulous Beau Brummels Site.