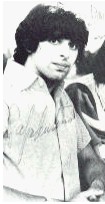 Meet Sal Valentino!
Born: Sal Spaminato September 8, 1942
Grew up in North Beach San Francisco, California.
Played baseball growing up, but made the switch to Football as a receiver.
He met Ron Elliott in elementary school.
Sal enjoyed Country Music he met singer merle travis when he was 18.
He also was a fan of Elvis.
In 1961 Sal made the record "I wanna twist & Lisa Marie". During the process of recording those two songs Sal changed his last name to Valentino.
When the Brummels begin they started playing the morocco room, where they would play four nights a week. Sal was also working as a Life-guard.
Sal's father picked "Valentino" as that was the name of his favorite boxer Pat Valentino.
You can find a interview with Sal at "Sundazed Records."
After The Beau Brummels, Sal worked with a band called "Stone Ground". Here is a link to a interview with one of the members, Tim Barnes
Read the "Spectrum Newspaper" interview with Sal.
Buy Sal's music at www.beaubrummels.com
©1999-2005 Cass- The Fabulous Beau Brummels Site.